Featured Book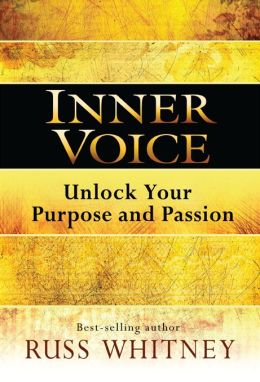 Inner Voice: Unlock Your Purpose and Passion traces how one man's struggle to find the true meaning of life evolved into a worldwide movement known as the Inner Voice way of life. Internationally recognized businessman, financial expert, and real-estate icon Russ Whitney spent five years and 20,000 hours researching and developing the program. It is built on simple yet powerful principles and strategies that guide readers through identifying their purpose; developing their passion; and living a life of peace, joy, and success that is richer and more fulfilling than they ever dreamed possible. Inner Voice is a dramatic departure from Whitney's earlier best-selling books, which all focused on financial success, real estate, and wealth-building strategies.
In Inner Voice, Whitney explains the happiness that can be found in humility; the importance of living in the moment; the need to understand, recognize, and master the immutable law of powerlessness; and how to surrender and find solid answers and peace with what you can't control. He teaches readers to use life-changing tools, including the Discovery Chart, two-way conscious contact, and Character Asset Checklist to achieve and maintain a connection with the Inner Voice. A step-by-step guide demonstrates exactly how to apply Inner Voice principles and strategies on a daily basis to be free of anxiety, frustration, fear, doubt, guilt, and shame so we can live the life our Creator intended for us.
» more info
More Featured Books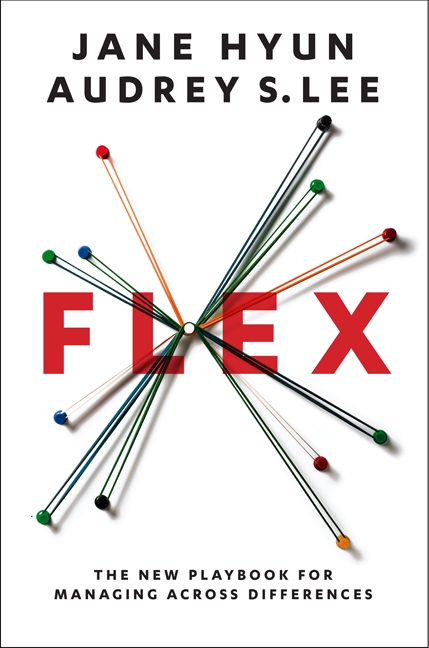 Renowned executive coaches and global leadership strategists Jane Hyun and Audrey S. Lee offer lessons on the vital skill of "Flexing"—the art of switching leadership styles to more effectively lead people who are different from you, allowing managers to successfully manage the multicultural workers of today and tomorrow.
Flex offers a proactive strategy for managers to navigate and leverage diversity effectively in this new global economy, showing managers how to: understand the power gap, the social distance between you and those in the workplace of different cultures, ages, and gender; flex your management style, by stretching how you work and communicate with others, and bridging the gap with more effective communication, feedback tools and building healthy teams; and multiply the effect, by teaching these skills to others and closing the power gap with clients, customers, and partners to create innovative solutions.
Creating flex in a company's management style will impact all aspects of developing the talent you have, attracting future talent and building relationships with customers in this competitive marketplace. Now, Flex: The New Playbook for Managing Across Differences shows you how.
» more info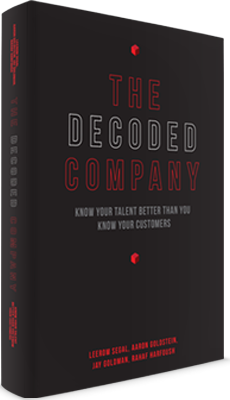 Google amazes us by generating answers before we've even finished asking a question. Facebook curates our uniquely individual newsfeeds. Spotify and Netflix use learning algorithms to customize our experience. At home, we choose companies that have figured out how to personalize our news, shopping, entertainment, travel, and learning needs.

At most workplaces, it's still one-size-fits-all policies, processes, and tools. Yet companies like Google, Starbucks, and Whole Foods have turned their algorithms inward to decode their talent. Their goal is not to get the better of their talent, but to empower the best from their people.

The Decoded Company distills how this process works into three transformative ideas.

· Technology Can be a Coach, personalizing processes to the individual based on experience and offering training interventions precisely at the teachable moment.
· Data Can Be a Sixth Sense, codifying organizational battle scars using actual code that watches your blind spots and gives your people a decision making superpower.
· The third is that Engineered Ecosystems will prevail over hierarchies, reducing bureaucracy, increasing transparency, and be wildly inspiring to teams.
» more info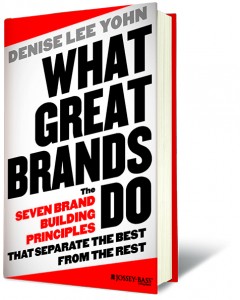 Discover proven strategies for building powerful, world-class brands
It's tempting to believe that brands like Apple, Nike, and Zappos achieved their iconic statuses because of serendipity, an unattainable magic formula, or even the genius of a single visionary leader. However, these companies all adopted specific approaches and principles that transformed their ordinary brands into industry leaders. In other words, great brands can be built—and Denise Lee Yohn knows exactly how to do it. Delivering a fresh perspective, Yohn's What Great Brands Do teaches an innovative brand-as-business strategy that enhances brand identity while boosting profit margins, improving company culture, and creating stronger stakeholder relationships. Drawing from twenty-five years of consulting work with such top brands as Frito-Lay, Sony, Nautica, and Burger King, Yohn explains key principles of her brand-as-business strategy.
• Reveals the seven key principles that the world's best brands consistently implement
• Presents case studies that explore the brand building successes and failures of companies of all sizes including IBM, Lululemon, Chipotle Mexican Grill, and other remarkable brands
• Provides tools and strategies that organizations can start using right away
Filled with targeted guidance for CEOs, COOs, entrepreneurs, and other organization leaders, What Great Brands Do is an essential blueprint for launching any brand to meteoric heights.
» more info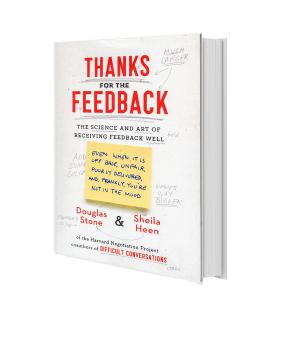 We swim in an ocean of feedback. Bosses, colleagues, customers—but also family, friends, and in-laws—they all have "suggestions" for our performance, parenting, or appearance. We know that feedback is essential for healthy relationships and professional development—but we dread it and often dismiss it.
That's because receiving feedback sits at the junction of two conflicting human desires. We do want to learn and grow. And we also want to be accepted just as we are right now. Thanks for the Feedback is the first book to address this tension head on. It explains why getting feedback is so crucial yet so challenging, and offers a powerful framework to help us take on life's blizzard of off-hand comments, annual evaluations, and unsolicited advice with curiosity and grace.
The business world spends billions of dollars and millions of hours each year teaching people how to give feedback more effectively. Stone and Heen argue that we've got it backwards and show us why the smart money is on educating receivers— in the workplace and in personal relationships as well.
Coauthors of the international bestseller Difficult Conversations, Stone and Heen have spent the last ten years working with businesses, nonprofits, governments, and families to determine what helps us learn and what gets in our way. With humor and clarity, they blend the latest insights from neuroscience and psychology with practical, hard-headed advice. The book is destined to become a classic in the world of leadership, organizational behavior, and education.
» more info