Featured Book
Between May 5 and June 3, 1864, the Union and Confederate armies suffered 88,000 casualties. Twenty-nine thousand were killed, wounded or captured in the first two days of combat. The savagery shocked a young, divided nation.
Against this backdrop of the birth of modern warfare and the painful rebirth of the United States, New York Times bestselling novelist Ralph Peters has created a breathtaking narrative that surpasses the drama and intensity of his recent critically acclaimed novel, Cain at Gettysburg.
In Hell or Richmond, thirty days of ceaseless carnage are seen through the eyes of a compelling cast, from the Union's Harvard-valedictorian "boy general," Francis Channing Barlow, to the brawling "dirty boots" Rebel colonel, William C. Oates. From Ulysses S. Grant and Robert E. Lee to a simple laborer destined to win the Medal of Honor, Peters brings to life an enthralling array of leaders and simple soldiers from both North and South, fleshing out history with stunning, knowledgeable realism.
From the horrific collision of armies in the Wilderness, where neither side wanted to fight, to the shocking slaughter of the grand charge at Cold Harbor, this epic novel delivers a compelling, authentic, and suspenseful portrait of Civil War combat.
Commemorating the approaching 150th anniversary of this grim encounter between valiant Americans, Ralph Peters brings to bear the lessons of his own military career, his lifelong study of this war and the men who fought it, and his skills as a bestselling, prize-winning novelist to portray horrific battles and sublime heroism as no other author has done.
» more info
More Featured Books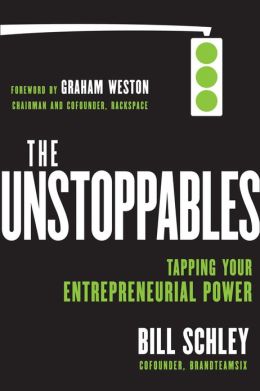 The UnStoppables is based on forward-author Graham Weston's experience growing Rackspace, as well as fascinating case studies from such organizations as the Navy SEALs and Israeli Special Forces. In The UnStoppables Bill Schley, co-founder of the branding firm Brand Team Six shows how the best practitioners think continuously about two things: The Big Picture and the Little Picture--essence and essentials. The essentials are the business and financial mechanics required of any working enterprise. But the essence is the emotional mechanics to deal with obstacles, risk, fear and failure. Mastering the emotional mechanics is how entrepreneurs succeed and winners win. This is how you capture the unlimited power of entrepreneurship to spark a successful start-up or revitalize a mature organization.
Explains why what's stopping you is more important than what's starting you, how to tap the essence of entrepreneurial power in you and in your organization, and how motion generates vision.
Bill Schley is an award winning author and established expert on branding and marketing communications, as well as the co-founder and creative director of the branding firm Brand Team Six
Graham Weston is the internationally renowned co-founder and chairman of Rackspace, the world's #1 cloud computing and managed hosting company
Locally, this book teaches you how to become an entrepreneur or to inspire an entrepreneurial mindset to boost any stage business. Globally, this book is about how this nation can launch thousands more entrepreneurs for the future.
» more info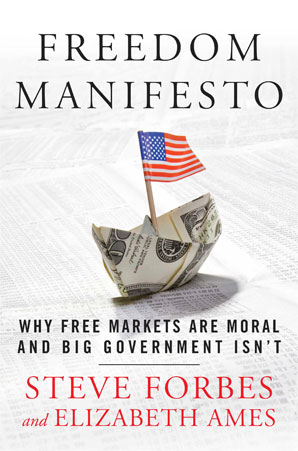 From Steve Forbes, the iconic editor in chief of Forbes Media, and Elizabeth Ames coauthors of How Capitalism Will Save Us—comes a new way of thinking about the role of government and the morality of free markets.
Americans today are at a turning point. Are we a coun­try founded on the values of freedom and limited gov­ernment, as envisioned by the founding fathers in the Declaration of Independence and the Constitution? Or do we want to become a European-style socialist democ­racy? What best serves the public good—freedom or Big Government?

In Freedom Manifesto, Forbes and Ames offer a new twist on this historic debate. Today's bloated and bureau­cratic government, they argue, is anything but a force for compassion. Instead of assuring fairness, it promotes favoritism. Instead of furthering opportunity, it stifles economic growth. Instead of unleashing innovation and material abundance, its regulations and price controls create rigidity and scarcity. Not only are Big Govern­ment's inefficient and ever-expanding bureaucracies ill-equipped to deliver on their promises—they are often guilty of the very greed, excess, and corruption routinely ascribed to the private sector.

The only way to a truly fair and moral society, the authors say, is through economic freedom—free people and free markets. Throughout history, open markets have helped the poor and everyone else by unleashing unprecedented creativity, generating wealth, and raising living standards. Promoting trust, generosity, and de­mocracy, economic freedom has been a more powerful force for individual rights, self-determination—and hu­manity—than any government bureaucracy.

Freedom Manifesto captures the spirit of a new movement that is questioning old ideas about the mo­rality of government and markets for the first time since the Great Depression. Going beyond the familiar explanations and sound bites, the authors provide a fully developed framework of "first principles" for a true understanding of the real moral and ethical distinctions between more and less government. This timely and provocative book shows why free markets and liberty are the only way to a better future and a fair and humane society.
» more info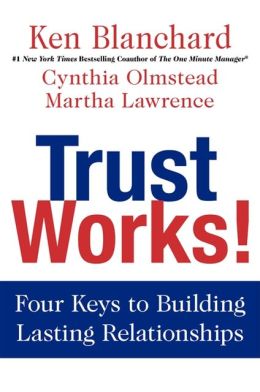 New York Times bestselling author and leadership expert Ken Blanchard's popular TrustWorks! training program is now available in book form!
Trust Works!: Four Keys to Building Lasting Relationships is an insightful guide designed to help people navigate one of the most complex issues that affects all areas of our lives: trust.
In Trust Works!, Ken Blanchard, Cynthia Olmstead, and Martha Lawrence demonstrate how to get along better with those around us.
In today's polarized society, building trust—and sustaining it—has never been more important or seemingly elusive. Trust Works! provides a common language and essential skills that can replace dissension with peace and cooperation and help us all work together productively and in harmony.
Learn how the apply the "ABCD trust" model to address the factors that lead to discord, including low morale, miscommunication, poor response to problems and issues, and dysfunctional leadership.
» more info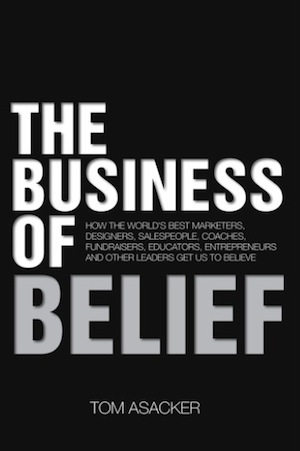 In this thought-provoking and entertaining book, Tom Asacker, author of Sandbox Wisdom and A Clear Eye for Branding, pulls back the curtain on the workings of the mind and reveals the hidden logic to motivating behavior, both in ourselves and in others.
Whether you are launching a new brand or marketing campaign, selling products and services, coaching individuals or leading a team, this book will shatter your assumptions about leadership and the art of influence, and give you the invaluable insights required to understand and move others.
The Business of Belief is Tom Asacker's most compelling—and important—book yet. It will fundamentally change the way you think about your work and your life. Use it as your companion and as a guide in this fast-paced world overwhelmed by complexity and choice.
The next big idea in business is BELIEF.
» more info