Featured Book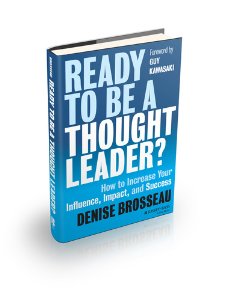 The how-to guide to becoming a go-to expert
Within their fields, thought leaders are sources of inspiration and innovation. They have the gift of harnessing their expertise and their networks to make their innovative thoughts real and replicable, sparking sustainable change and even creating movements around their ideas. In Ready to Be a Thought Leader?, renowned executive talent agent Denise Brosseau shows readers how to develop and use that gift as she maps the path from successful executive, professional, or civic leader to respected thought leader.
With the author's proven seven-step process—and starting from wherever they are in their careers—readers can set a course for maximum impact in their field. These guidelines, along with stories, tips, and success secrets from those who have successfully made the transition to high-profile thought leader, allow readers to create a long-term plan and start putting it into action today, even if they only have 15 minutes to spare.
• Offers a step-by-step process for becoming a recognized thought leader in your field
• Includes real-world examples from such high-profile thought leaders as Robin Chase, founder and former CEO of Zipcar; Chip Conley, author of PEAK and former CEO of JDV Hospitality; and more
• Written by Denise Brosseau, founder of Thought Leadership Lab, an executive talent agency that helps executives become thought leaders, who has worked with start-up CEOs and leaders from such firms as Apple, Genentech, Symantec, Morgan Stanley, Medtronic, KPMG, DLA Piper, and more
Ready to Be a Thought Leader offers essential reading for anyone ready to expand their influence, increase their professional success, have an impact far beyond a single organization and industry, and ultimately leave a legacy that matters.
» more info
More Featured Books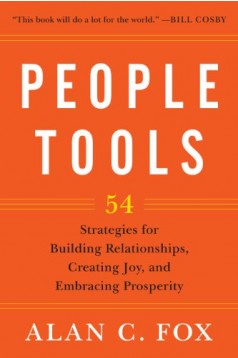 Getting along well with others is the real secret to success and happiness. In tens of thousands of classrooms we teach reading, writing, and arithmetic and yet we leave solutions to the universal problems of human relationships to be discovered, if at all, by trial and error. The trial is painful and the error is costly.
People Tools: 54 Strategies for Building Relationships, Creating Joy, and Embracing Prosperity, provides time-proven techniques that you can use to build a better, happier, more successful life. It is the perfect resource for busy people looking for fast and effective solutions to the challenges we face every day.
"People Tools" are practical and easy to understand. From developing self-confidence, to improving communication skills, to finding constructive ways to resolve conflict, each "People Tool" addresses a specific issue and provides a simple, straightforward strategy that you can adopt to bring about a positive result. Open the book to any page and you will find a useful solution. Each tool is illustrated with insightful stories and amusing anecdotes that are relevant and relatable. The stories will reel you in but the advice will change your life.
» more info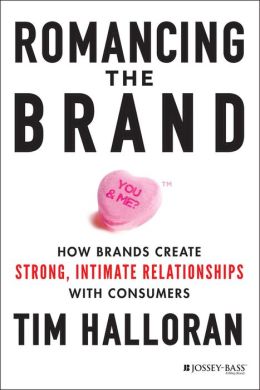 A young woman tells a focus group that Diet Coke is like her boyfriend. A twenty-something tattoos the logo of Turner Classic Movies onto his skin. These consumers aren't just using these brands. They are engaging in a rich, complex, ever-changing relationship, and they'll stay loyal, resisting marketing gimmicks from competitors and influencing others to try the brand they love.
How can marketers cultivate and grow the deep relationships that earn this kind of love and drive lasting success for their brands?
In Romancing the Brand, branding expert Tim Halloran reveals what it takes to make consumers fall in love with your brand. Step by step,he reveals how to start, grow, maintain, and troubleshoot a flourishing relationship between brand and consumer. Along the way, Halloran shares the secrets behind establishing a mutually beneficial "romance." Drawing on exclusive, in-depth interviews with managers of some of the world's most iconic brands, Romancing the Brand arms you with an arsenal of classic and emerging marketing tools—such as benefit laddering and word-of-mouth marketing—that make best-in-class brands so successful. The book is filled with examples, strategies, and tools from powerful brands that consumers love, including Coke, Dos Equis, smartwater, the Atlanta Falcons, Domino's Pizza, Bounty, Turner Classic Movies, and many more.
Ultimately, Romancing the Brand provides marketers with a set of principles for making brands strong, resilient, and beloved—and the insight and confidence to use them.
» more info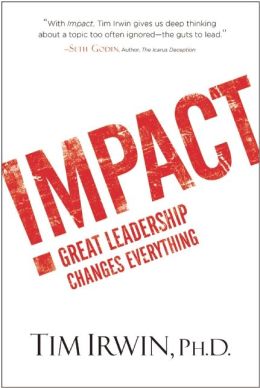 For more than 25 years, organizational psychologist and management consultant Dr. Tim Irwin has worked with thousands of leaders in well-known global companies. He knows most leaders work for recognition and advancement and they want more challenge and responsibility. He's also found this to be true: Most of us want to make a positive difference through our work and to have our lives count for something more than simply making a living. We want to make an impact.
Yet when we look around our organizations, we don't see many leaders who have real impact. We see them just managing the daily rat race. Somewhere along the line, many began working for money instead of for meaning, for status instead of for a lasting legacy.
In Impact, Irwin identifies the principles and beliefs that lead to great leadership—ways in which you can grow and thrive and be trusted by others. Learn how to be the kind of leader that motivates others in meaningful work and great accomplishments and what you can do to stay on track so you avoid a path of personal destruction so many leaders go down today.
Accessible, humorous, and engaging, Irwin's latest book shows you how to live the vision you began your career with and then finish strong for a lasting impact, the hope of every great leader.
» more info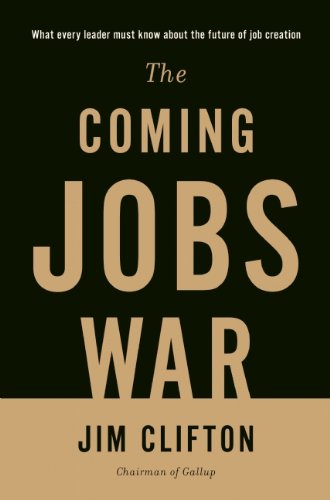 In The Coming Jobs War, Gallup Chairman Jim Clifton boldly asserts that job creation and successful entrepreneurship are the world's most pressing issues, outpacing runaway government spending, environmental degradation, and even the threat of global terrorism.
The book is grounded in findings from Gallup's World Poll, which reveals implications of the jobs war on everything from economics to foreign policy to America's moral authority in the world. And it offers a prescription for attacking the jobs issue head-on. Clifton says the solution to creating good jobs must be found in cities, not the federal government. Promoting entrepreneurship and job creation must be the sole mission and purpose of cities' leaders.
Winning the jobs war requires all hands on deck, and failure is not an option, especially for the U.S., which has been the global leader in promoting freedom and entrepreneurship. America's place in the world is at stake, with other countries poised to surpass a sputtering U.S. economy growing at only 2% annually.
While the statistics are dire, Clifton remains optimistic about America's ability to win the jobs war. The Coming Jobs War offers a brutally honest look at America's biggest problem and a cogent prescription for solving it.
» more info