Featured Book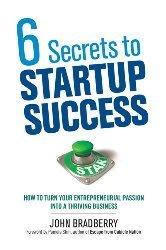 Over six million Americans start businesses every year. That's 11 startups a minute launched by passionate dreamers hoping to transform their lives for the better. But a huge gap exists between the skyrocketing levels of desire and what entrepreneurs actually achieve. The harsh reality is that most new businesses fail within a few years of launch. Why do so few startups make it? And what distinguishes those that do succeed? Entrepreneur, consultant, and investor John Bradberry set out to discover the answer and came to a surprising conclusion that the passion that drives and energizes so many founders is also the very thing that leads many of them astray. Click cover to order
» more info
More Featured Books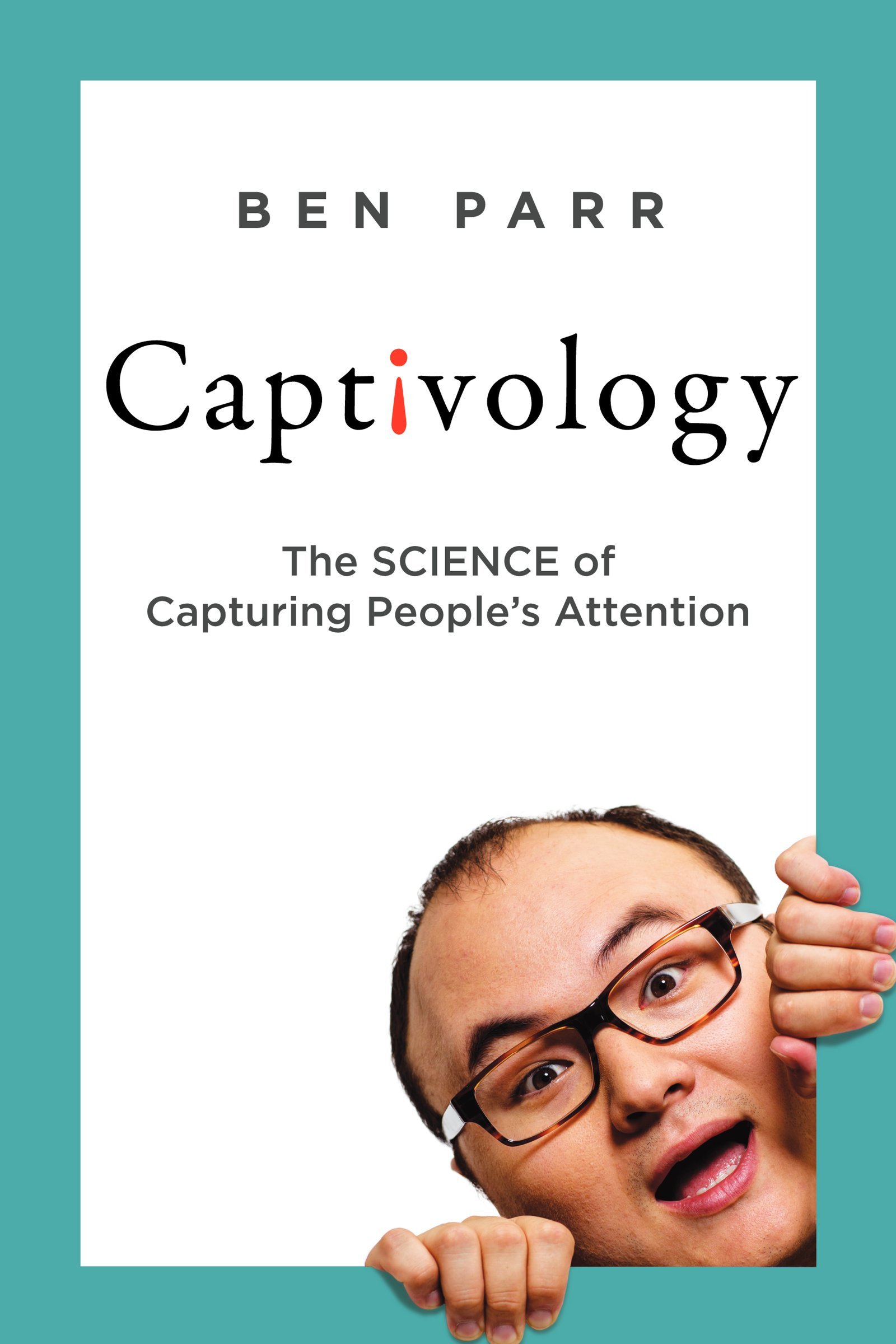 n Captivology, award-winning journalist, author, entrepreneur and investor Ben Parr (Forbes 30 Under 30) presents a new understanding of attention -- how it works, why it matters, and how we leverage psychological triggers to draw and retain attention for our passions, projects, and ideas.
Parr combines the latest research on attention with interviews with more than fifty scientists and visionaries--Facebook's Sheryl Sandberg, film director Steven Soderbergh, LinkedIn CEO Jeff Weiner, magician David Copperfield, New York Times bestselling author Susan Cain, Nintendo's Shigeru Miyamoto, and more--who have successfully brought their ideas, projects, companies, and products to the forefront of cultural consciousness. The result is an insightful and practical book that will change how you assign jobs to your kids or staff, craft a multi-million dollar ad campaign, deliver your next presentation, attract users to your product, or convince the world to support your cause.
» more info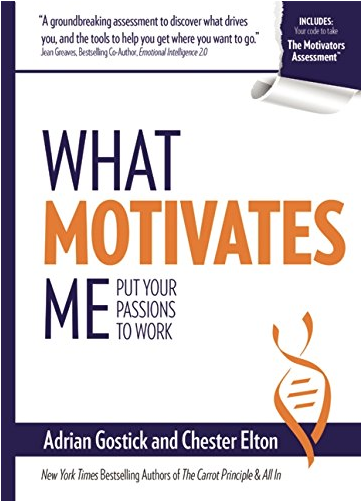 hat Motivates Me will help readers align the work they do every day, for the rest of their lives, with what truly motivates them. It also includes a code to the Motivators Assessment. This is not a personality test, but a scientifically valid assessment that digs straight to the core of what motivates you at work. The book also features a set of thought-provoking exercises to help readers sculpt their jobs with 60 powerful strategies.
After analyzing the results of 850,000 interviews, the authors sought to discover why so many people are not as engaged and energized as they could be at work. They found those who are happiest and most successful are engaged in work that aligns with what motivates them. What Motivates Me offers an extensively tested method to help readers identify their core motivators and figure out the disconnects between their passions and their current work, and guides all those searching for joy and engagement by asking the important questions - "What motivates me?" and "What can I do about it?"
» more info

From Publishers Weekly: If you work at a Fortune 500 company and live in southern Connecticut or New York's Westchester County (two of Manhattan's most affluent suburbs), chances are you buy your suits at Mitchells (in Westport, Conn.) or Richards (in Greenwich, Conn.). These two independent clothing stores are some of the most successful in the business and outfit CEOs from Chase, GE, IBM, Merrill Lynch and Pepsi. Mitchell, whose father started the business, shares the secret of his success in this unoriginal but cheerful guide to keeping customers happy. Hugging your customers, he says, has... everything to do with offering them over-the-top service. ...His advice-know your customer, think outside the box, have a "no problem" attitude-is hardly groundbreaking. But those who work with customers daily have much to gain from this chipper, inspiring handbook.
» more info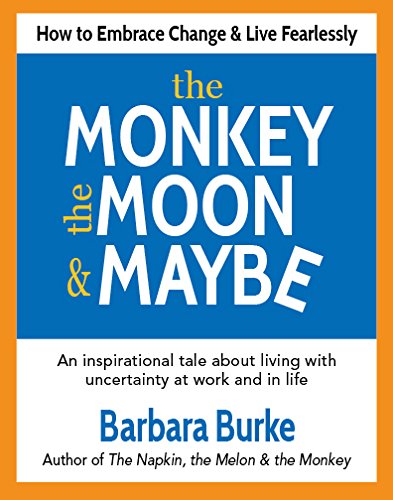 Barbara Burke's first workplace fable, The Napkin, the Melon & the Monkey offered readers age-old wisdom and simple tools for being happy and successful. Now comes the sequel, The Monkey, the Moon & Maybe, an insightful tale of inspiration and guidance for handling one of life's most daunting challenges - constant change.
» more info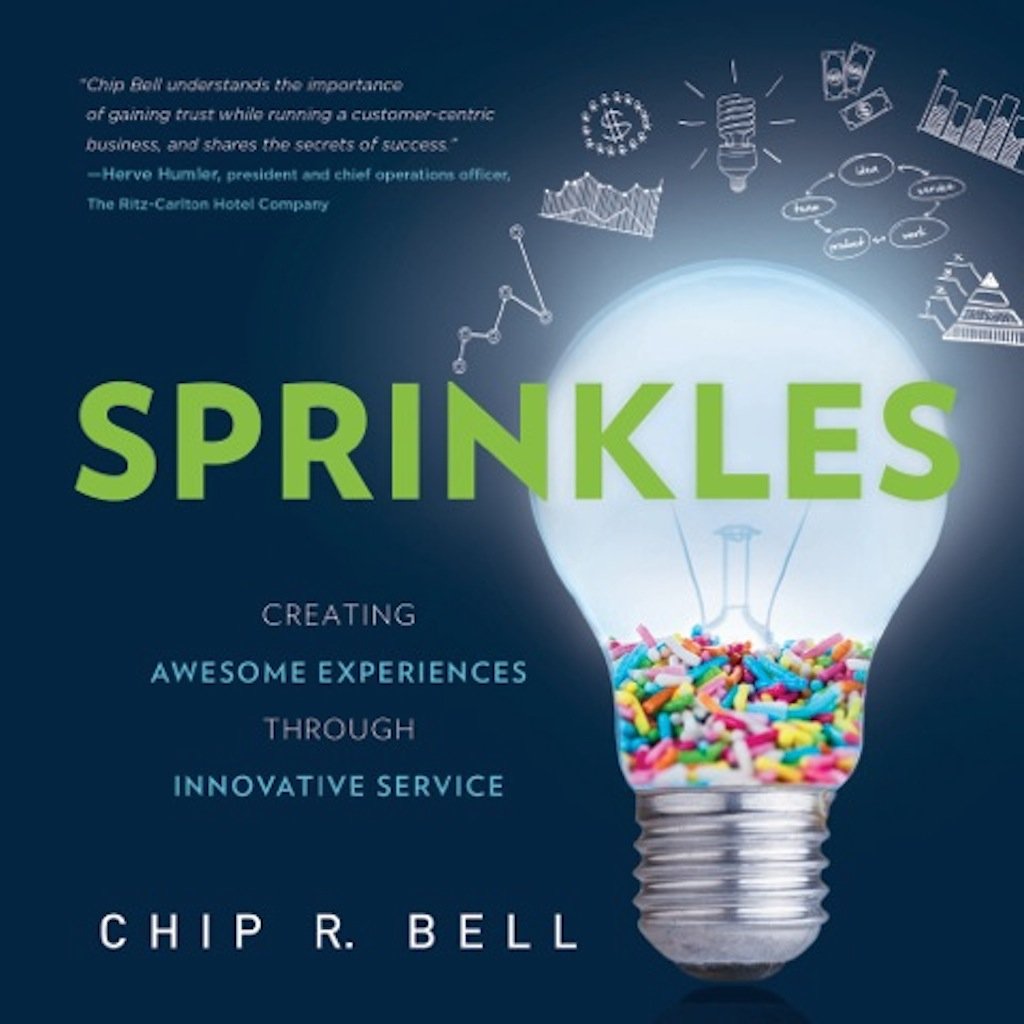 Sprinkles is a book about unique customer service and the bottom line. Customers today crave special and unique. What do sprinkles do to a cupcake or cookie? They obviously make it special and unique. Innovative service is the same: it turns good to great service into special and distinctive service.
Customers like service that is good--meaning it successfully fulfills their needs or accomplishes the outcome they seek. But, they remember service that comes with an experience that gives them unexpected pleasure. Just like a good cookie made special with sprinkles, it's the extra touch!
This amazing little book is full of compelling stories of real customer service experiences that exceeded all expectations, breathtaking insights, and super-cool techniques that provide the perfect recipe for how to attract and retain the loyalty of today's picky, fickle, and vocal customers.
» more info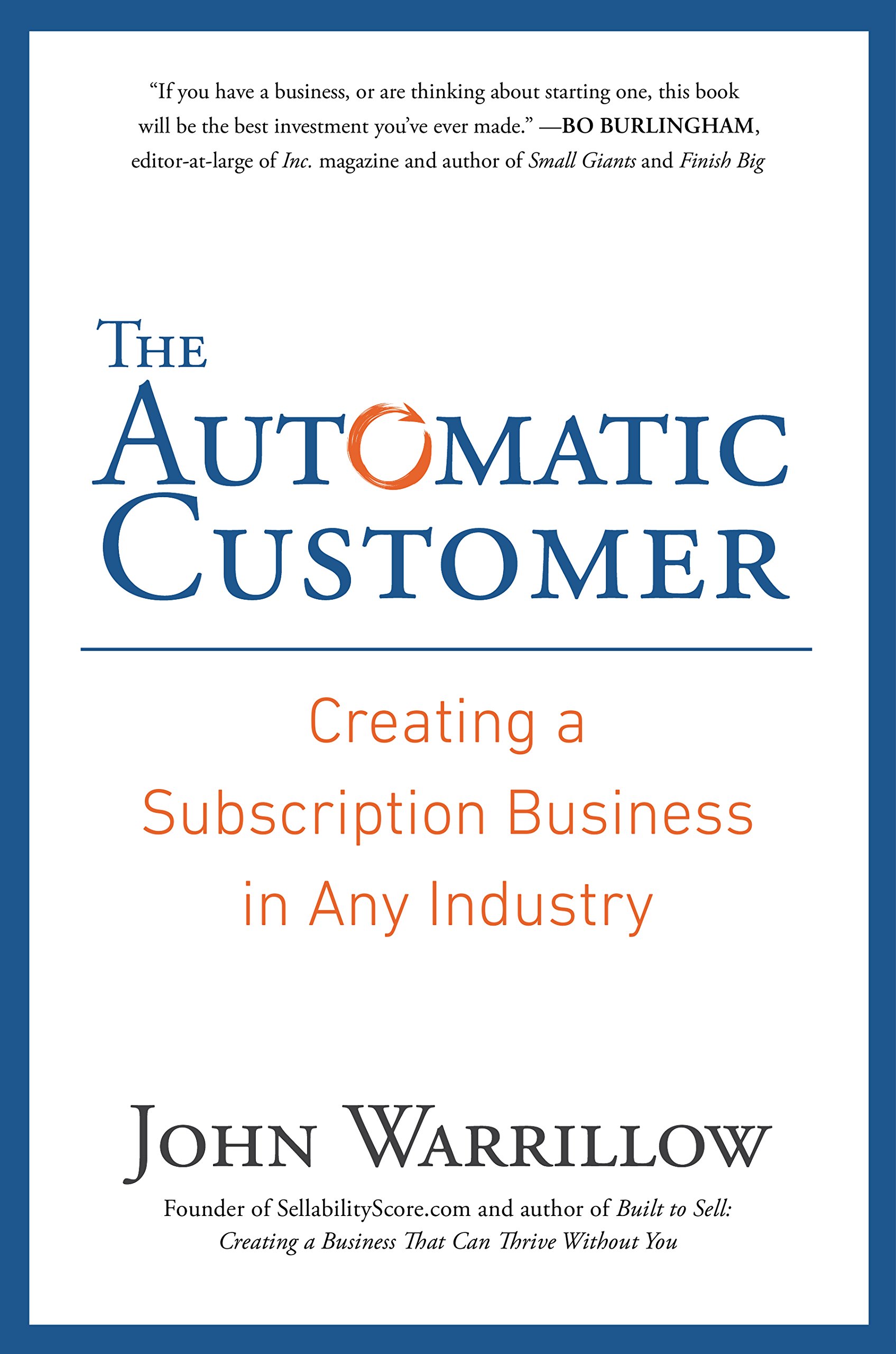 Warrillow provides the essential blueprint for winning automatic customers with one of the nine subscription business models, including:
The Membership Website Model: Companies like The Wood Whisperer Guild, ContractorSelling.com, and DanceStudioOwner.com offer access to highly specialized, high quality information, recognizing that people will pay for good content. This model can work for any business with a tightly defined niche market and insider information.
The Simplifier Model: Companies like Mosquito Squad (pest control) and Hassle Free Homes (home maintenance) take a recurring task off your to-do list. Any business serving busy consumers can adopt this model not only to create a recurring revenue stream, but also to take advantage of the opportunity to cross-sell or bundle their services.
The Surprise Box Model: Companies like BarkBox (dog treats) and Standard Cocoa (craft chocolate) send their subscribers curated packages of goodies each month. If you can handle the logistics of shipping, giving customers joy in something new can translate to sales on your larger e-commerce site.
» more info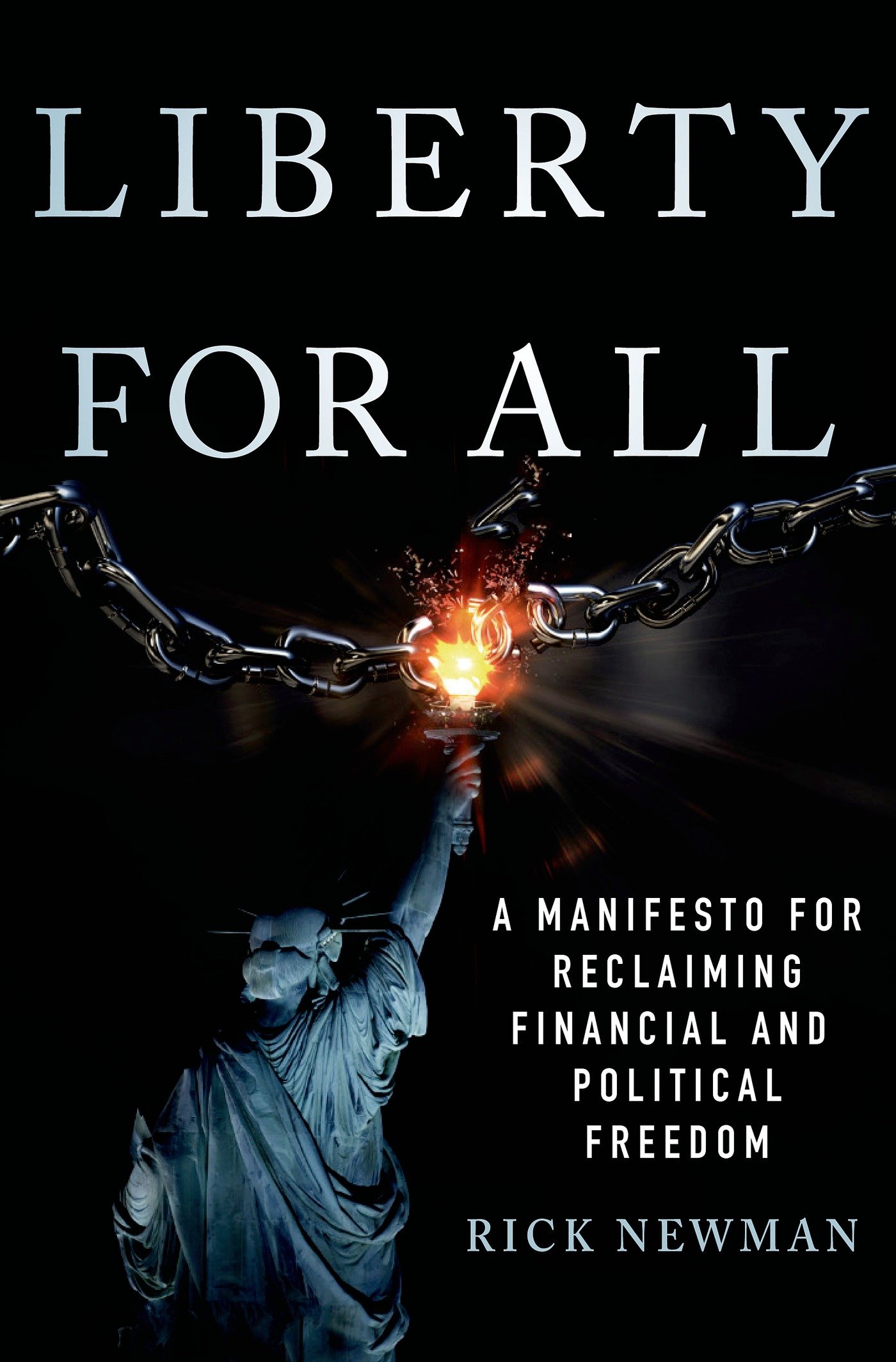 Americans are increasingly dismayed with a broken political system and the big institutions they blame for a Darwinian economy (in which it's getting harder to get ahead). What they've lost sight of is the importance of self-reliance and personal initiative in every individual's quest for prosperity. Liberty For All pushes past the usual go-nowhere policy prescriptions to probe what ordinary people can do to build their own self-reliance and enhance their odds of success. In a wry and entertaining narrative, Rick Newman embarks on a quest to improve his own self-reliance by camping with "doomsday preppers," deconstructing the "rugged individualist" that politicians so often invoke, and detailing the ways we unnecessarily shackle ourselves. The result is a guide to enriching your prospects—and your life—by harnessing every freedom available.
» more info