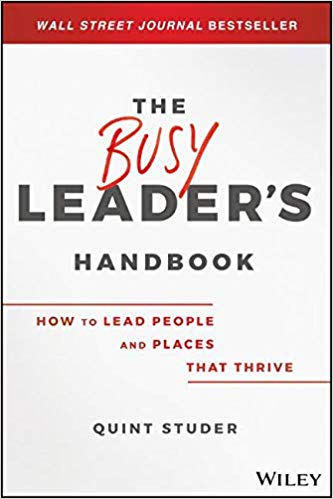 The Busy Leader's Handbook How To Lead People and Places That Thrive
Author: Quint Studer
Being a great leader means getting the fundamentals right. It also means consistently doing the "little things" that make a positive difference in the lives of employees, customers, and other stakeholders.The Busy Leader's Handbook: How to Lead People and Places That Thrive is a practical, easy-to-use book filled with gentle reminders of what we should be doing every day ----- especially when work is at its most intense.
Packed with proven best practices, tools, tips, and tactics for engaging employees, revitalizing cultures, delighting customers, and building high-performance companies, each chapter is "stand-alone," and the strategies, approaches, and tactics are designed to be put into action immediately.
Whether you work for a start-up, a small or mid-size business, or a large corporation, this book will change how you think, inspire you to do your job better ----- and help your organization thrive.