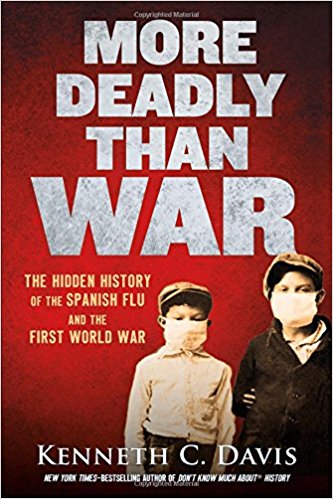 More Deadly Than War: The Hidden History of the Spanish Flu and the First World War
Author: Kenneth Davis
From bestselling author Kenneth C. Davis comes a fascinating account of the Spanish influenza pandemic 100 years after it first swept the world in 1918.
"Davis deftly juggles compelling storytelling, gruesome details, and historical context. More Deadly Than War reads like a terrifying dystopian novel―that happens to be true." ―Steve Sheinkin, author of Bomb and Undefeated
A Washington Post Best Children's Book of the Month
With 2018 marking the 100th anniversary of the worst disease outbreak in modern history, the story of the Spanish flu is more relevant today than ever. This dramatic narrative, told through the stories and voices of the people caught in the deadly maelstrom, explores how this vast, global epidemic was intertwined with the horrors of World War I―and how it could happen again. Complete with photographs, period documents, modern research, and firsthand reports by medical professionals and survivors, this book provides capitvating insight into a catastrophe that transformed America in the early twentieth century.