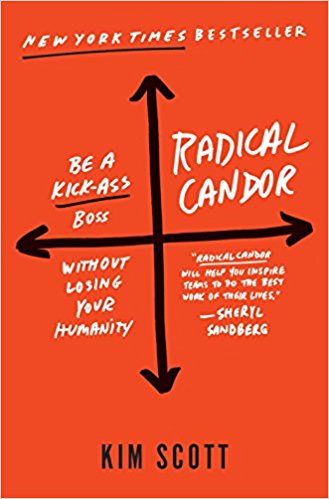 Radical Candor: Be a Kick-Ass Boss Without Losing Your Humanity
Author: Kim Scott
From the time we learn to speak, we're told that if you don't have anything nice to say, don't say anything at all. When you become a manager, it's your job to say it--and your obligation.
Radical Candor is a simple idea: to be a good boss, you have to care personally at the same time that you challenge directly. When you challenge without caring it's obnoxious aggression; when you care without challenging it's ruinous empathy. When you do neither it's manipulative insincerity.
This simple framework can help you build better relationships at work, and fulfill your three key responsibilities as a leader: creating a culture of feedback (praise and criticism), building a cohesive team, and achieving results you're all proud of.
Radical Candor offers a guide to those bewildered or exhausted by management, written for bosses and those who manage bosses. It shows managers how to be successful while retaining their humanity, finding meaning in their job, and creating an environment where people both love their work and their colleagues.