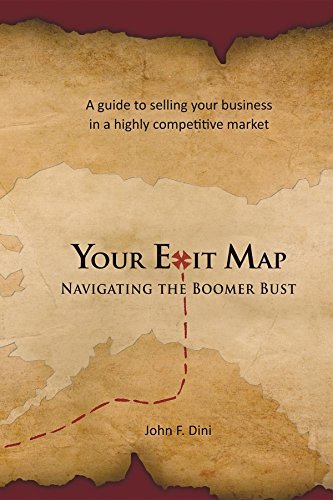 Your Exit Map: Navigating the Boomer Bust
Author: John Dini
Fast paced, enjoyable to read and even more fun to look at, Your Exit Map: Navigating the Boomer Bust is a new kind of business book for the 21st century. Modern technology and the Internet combine to surpass the drab, text filled "drone tomes" that fill too many business owners' shelves.

Over 200 illustrations, photos, graphs and cartoons take the reader through the historical shifts that created a generation of Boomer entrepreneurs, and the equally powerful forces that are assembling to challenge their successful transitions. Humor and insight share each page, mixing entertainment with critical information for planning the biggest financial event of most entrepreneurs' careers.

Your Exit Map covers the various strategies for transferring a business to new ownership. It describes the features that attract different classes of buyers, how they target companies for acquisition, and their methodologies for assigning value.

This is not an exit planning encyclopedia. Your Exit Map offers a high-level overview of how to use simple tools to determine the balance of priorities between your retirement timeframe, financial goals, and your desire to preserve the legacy of what you've built. It explains sales through business brokers, competitive acquisitions, private equity, leveraged buyouts, ESOPs and family transfers; describing the parameters for extracting maximum proceeds from each approach.

Your Exit Map also features interviews with owners who have exited their businesses with varying levels of success. In their own words, they describe the best and worst things that happened as they prepared to exit, during the process and afterwards. Their stories bring home the joys and pitfalls hat accompany such a major change in lifestyle.

Your Exit Map: Navigating the Boomer Bust is supplemented by an online library of free interactive planning tools, checklists and educational resources at www.YourExitMap.com. Each tool referenced in the book is available for instantly modeling your own plan, along with articles, white papers and the author's own exit planning blog www.Awakeat2oclock.com.