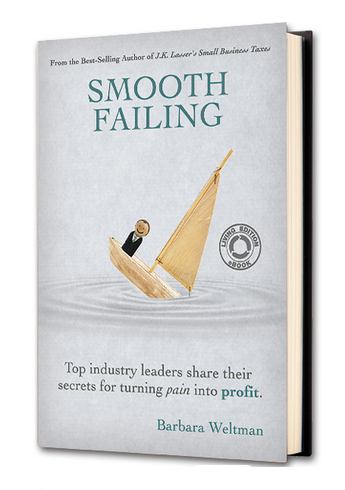 Smooth Failing (Living Edition) Top Industry Leaders Share Their Secrets for Turning Pain into Profit
Author: Barbara Weltman
SPECIAL NOTE: Barbara is trying something new! There are two different editions of this eBook. The first is a "Standard Edition" whose content will remain unchanged (other than clerical corrections). The second is what she calls a "Living Edition." In this edition, new chapters and examples will be added regularly at no additional cost. Readers of this edition will be alerted by Amazon each time an updated version is posted. You can switch between the versions by clicking in the "Formats" box above.
Barbara Weltman, the prolific, best-selling author of over a dozen books on how to do things right in business, takes an inspired look at the hard lessons learned when things go wrong, in Smooth Failing. Through extensive interviews with entrepreneurs whose ventures fail for a variety of reasons - some stunningly unexpected, some painfully inevitable - Weltman gleans valuable insights about the small mistakes that can lead to large scale catastrophe. Smooth Failing seeks to save many readers from similar disasters - while empowering those who are learning from failures and adversity to bounce back stronger and wiser on the often rocky road to success.
In the "Living Edition" each new chapter added will center around a new story of business failure and the resulting lessons learned. Requests for specific examples or entrepreneurs to be featured can be submitted by the reader for future consideration. These requests will dictate how often and how many additional stories will be made available.