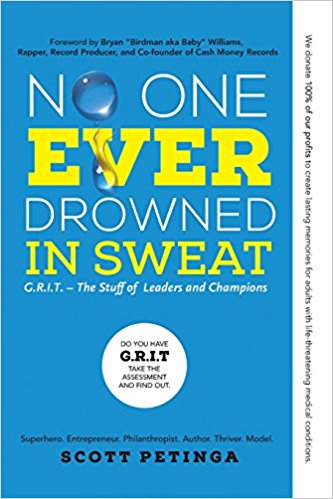 No One Ever Drowned in Sweat
Author: Scott Petinga
Life is full of resistance seeking to sink your dreams. It takes hard work plus a daily dose of G.R.I.T. to overcome this resistance and reach your goals. G.R.I.T. stands for Guts, Resilience, Initiative and Tenacity which Scott Petinga, Chief Troublemaker at The Scott Petinga Group, says are the foundational ingredients necessary to get the journey started, keep momentum going, effectively handle hurdles along the way, and stick with the task until the destination is reached.
In No One Ever Drowned in Sweat, Scott breaks down each trait of G.R.I.T. and how to successfully use them to reach goals. Besides sharing his own experiences, Scott adds words of wisdom from interviews of over 50 notable CEO's, entrepreneurs, non-profit heads, thought leaders athletes, everyday heroes, academics and forward thinkers from all walks of life.
You'll learn how these traits are the driving force that makes things happen. Scott explains how it is the elements of G.R.I.T. that are needed to restore the business world which has grown basically weak and unproductive because corporate heads have valued those with educational parchments and alphabetical titles over those with the characteristics of G.R.I.T.